20 June 2003
Highlighting....
Big Pine Key and Flroida's Lower Keys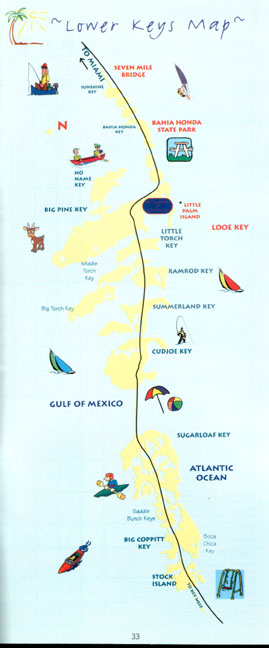 Just past the famous Seven Mile Bridge lies "Florida's Lower Keys"; Sunshine Key, Bahia Honda Key, No Name Key, Big Pine Key, Little Torch Key, Ramrod Key, Summerland Key, Cudjoe Key, Sugarloaf Key, Big Coppitt Key, Stock Island.
Like many parts of Florida, the original inhabitants of the Keys were Native American Indians. Indian tribes such as the Calusa and Tequesta were living in the keys when the Spanish discovered Florida in the 1500's. In 1513, during his discovery of Florida, Ponce de Leon named the Keys the Martires (the martyrs). Experts have speculated that this name actually came from the Indians, as there was an Indian village named Cuchiyaga or "martyred place" during this early time. Memoris, dated around the middle 1500's from a ship-wrecked Spaniard who lived in the Keys amongst the Indians for 20 years, reported that there were deer, raccoons, manatees and bears. Their diet consisted of fish, turtle, snail, lobster, manatee and raccoon. Little is known or written about the Keys until the 1800's as the Indian tribes moved or died out and the lack of bridges precluded any land settlement.
The Lower Keys were sparsely settled in the early to mid 1800's. Mosquitoes and lack of any particular way of making a living made it difficult to homestead this area. At the same time, Key West had a population of 18,000, making it the largest city in Florida. Some well to do Key Westers had country homes 30 miles east of the Lower Keys and all sailed by boat to their second homes. Although sparsely inhabited today, small lower Keys like No Name and Little Pine had substantial settlements. Many brave settlers survived in the Lower Keys by producing charcoal, farming, fishing and sponging. Back in 1905, a feed sack of coal netted 10 cents.
With the fulfilled lifelong dream of Henry Flagler, the Overseas Railroad, a successful Lower Keys settlement could be realized. this link with mainland was the culmination of 7 years of extremely hard work. Over 500 railroad workers, as well as most of Flagler's fortune, were claimed by this project. The train ran from its completion in 1912 until 1935 when the great Labor Day hurricane destroyed it. The railroad left many remnants of its existence in the Lower Keys. Water towers, sumps, sinkholes and sections of the railway bridges are still evident.
After the hurricane, destruction to the railway was so great, the railway was sold to the State of Florida and they built the Overseas Highway. This highway incorporated a ferry system as well. During this time in Keys history, travel time from Key largo to Key West could take over 7 hour for the 118 mile stretch.